" I just want to say a huge THANK YOU for a great presentation last night!…
Thanks again for a job well done, our Members loved you."
Stephanie Lyon, Member Relations Director
University of Massachusetts Club, Boston
If you're looking to deepen your connection with your customers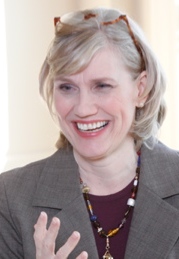 and transform your brand or business, Tracy Carlson is an ideal choice to speak at your event.  Listeners will walk away a sense of new, enlivening possibilities for connecting with their audience.
Tracy's presentations are fresh, fun, and thought provoking.  She is known for her warmth and humor, natural storytelling, and her ability to engage with groups ranging from industry associations to companies to non-profits and universities. She prefers to tailor the content of her presentations to meet her client's needs and goals and includes original content in every presentation.
Keynotes
The following keynotes can be adapted to your audience and content focus.
What Great Brands Know: Unleash Your Right-Brain Genius to Stand Out and Make Customers Care
Summary: What do the brands we truly care about do differently?
Today, most companies focus on a lopsided approach that creates efficiency, but leaves consumers cold—and brands vulnerable.  Truly great brands do things differently.
In this informative and inspiring talk, Tracy will present at a high level the six principles from her new book What Great Brands Know: Unleash Your Right-Brain Genius to Stand Out and Make Customers Care. Truly great brands not only know but use these to create remarkable customer experiences and real customer loyalty. She'll bring these principles to life by drawing on a few in-depth examples of how they play out in brands familiar to everyone. Listeners will leave with a fresh perspective on their own situation and eagerness to explore new possibilities for their brand/business.
Outlaws, Orphans, and Warriors: How archetypes can help power your brand and business
Summary: Today, Harley-Davidson's customers are more likely to be pre-retirement middle-Americans than scruffy rebels, but the brand's enduring appeal is skillfully based on cultivating the badass image of the Outlaw. Similarly, much of Southwest Airlines' success stems from embodying the Jester, from the irreverent personality of its staff to its ability to poke fun at absurdities like the baggage fees and blackout dates of competitors.  These brands succeed by using archetypes: universal themes hardwired into human beings that provide shortcuts to meaning.
Adept use of archetypes can help your brand cut though the clutter by instantly connecting with a range of associations—and help you differentiate yourself vs. your competition by leveraging storylines we already recognize, understand, and value. In this engaging and informative talk, Tracy Carlson will help attendees understand what archetypes are and how to use them, drawing on compelling examples from brands familiar to all of us. She'll also highlight how our own invisible storylines may be binding us to stale stereotypes—and blinding us to fresh possibilities to create impact for our brands and businesses.
How to Repel Customers and Accelerate Complaints! (or…How Emotional Engagement Can Break—or Make—Customer Loyalty)
Summary: Are you courting disaster by not understanding your emotional impact on customers? Learn from famous failures in emotional intelligence—and from inspiring brands that have successfully addressed three key aspects of emotion in marketing.
While companies may not know how (or wish) to engage proactively with their customers emotionally, they can have an emotional impact whether they intend to or not.  And if they're truly lacking in emotional intelligence, the results can be disastrous.
In this lively and entertaining talk, Tracy will explore three aspects of emotion in marketing, with particular focus on two massive failures in recent memory, by brands we all know (and we may also be their customers).  She'll identify risk factors that make brands and companies especially vulnerable to these types of disasters. Drawing on inspiring case studies, she'll also highlight some remarkable success stories to show how companies have created remarkable distinction and customer loyalty.
Speaker Bio
Tracy Carlson is a speaker, author and brand strategy advisor who helps companies develop brands people care about.  As a leader of major brands (Dove, Hellmann's, Wisk) and consultant to many more (including General Mills, Rubbermaid, and Pepsi), Tracy has a strong track record of identifying big ideas ahead of their time and helping brands connect with the emotional life of their customers.
Her new book, What Great Brands Know: Unleash Your Right-Brain Genius to Stand Out and Make Customers Care, helps change agents and emerging leaders access the potential of right-brain thinking for their brands and business.  As she demonstrates through a powerful framework and series of compelling examples, integrating right-brain approaches alongside traditional left-brain business thinking is what differentiates truly great brands from their counterparts: Apple vs. Microsoft, Southwest vs. United, Trader Joe's vs. Safeway, and the like.
Tracy has also written for The Washington Post and top marketing publications including BrandWeek, Ad Age, and AdMap.
Recent & Upcoming Speaking Engagements
Yale Club of Boston, Algonquin Club, September 24, 2015
Rodan + Fields Convention, Austin, TX, September 18, 2015–3 sessions sold out
Sage Summit 2015, New Orleans, LA, July 30, 2015
Sage Summit 2014, Las Vegas, NV, July 30, 2014
UMass Club, Boston, MA, June 25, 2014
New Hampshire Center for Wellness Promotion:  Concord, NH, April 2013
Bentley University: Waltham, MA, March 2013
Contact
Click
here
to get in touch. I look forward to speaking with you!